As thrilled as I am for the US Women's National Team for successfully defending their World Cup title, I have to say that I'm bummed that the tournament has come to a close because man, was it a fun one to watch this go-around. Seeing the USWNT at its best was naturally incredibly satisfying, of course, but it was also really thrilling to see so many talented teams and some incredible upsets along the way. Spain's women's squad is still an emerging one, but they performed incredibly well, in part thanks to the federation replacing the misogynistic jerk coach with one who actually cares and gets results. (Who woulda thunk it?) Marta from Brazil may have played in her final tournament, but she left holding the record for the most goals scored in World Cup tournaments of all time, regardless of gender. Argentina held Japan to a scoreless tie in the group stage, a feat which seemed impossible given the former's comparative inexperience to the latter. This was also the first time that two African nations progressed to the knockout stage, and hopefully, that fact will encourage FIFA to invest more in their federations to make their programs stronger.
And then, of course, there were the Americans.
From their opening match against Thailand, I knew that this squad was not to be messed around with in the slightest. They were sending a message to everyone that they were here to compete, and they would be unapologetic about that mission. The "Tour de Four" was on, and there would be no rest until it was complete.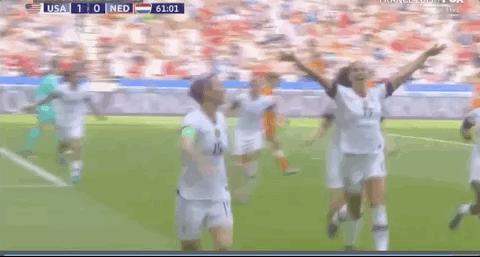 And what a team of women to accomplish that goal! I've always loved that our national women's soccer team has had so many admirable players, but this group might be my favorite iteration yet. I admire and support their effort to gain equal pay and I love that they have decided to embrace that some of their members are queer. For a tournament largely played during Pride Month here in the US, it was gratifying to see rainbow flags flown alongside American ones, and it was outstanding to see co-captain Megan Rapinoe be out, proud, and loud in her identity, in her confidence in the team, and her complete disinterest in going to the "f**ing White House" if they successfully defended their title. She's been an outspoken critic on a lot of things ranging from police brutality to LGBTQ rights, and it wouldn't surprise me that the pushback she received for being so vocal helped galvanize her performance during the tournament. I really hope this isn't her last World Cup–she's at the age where if she is called up again in four years, it may be as a sub rather than a starter like Carli Lloyd was this year–but if it is her final WC competition, what a way to cap it. That being said, it was great to see players like Crystal Dunn and Rose Lavelle shine too, so I'm looking forward to seeing what this squad does over the next four years.
For the final against the Netherlands, I had this grand plan to make brunch for us to enjoy while it was on, but I woke up with a slight stomachache and very little appetite that further went away when I realized that this was going to be a very intense match. I ended up making Michael an omelet as soon as the final whistle blew and I pulled together a bowl of berries and cream, originally from the movie Chef that felt particularly patriotic given its red, white, and blue appearance. 
It's been a bit since I've seen Chef, but the movie has been on my mind lately because I've been thoroughly enjoying The Chef Show on Netflix where Jon Favreau and Roy Choi remake several of the recipes featured in the film, hang out with various actors from The Avengers and basically cover food topics that they find personally interesting. In the first episode, they show you how to make the berries and cream featured as part of the menu chef Carl wanted to make to impress a snobbish food critic, and while it's pretty straightforward, it does require a bit of time and patience to get everything right.
The pièce de résistance of this recipe is arguably the caramel dust that is gently sprinkled over top of the berries and cream but making it is also kind of a pain. If you're only making this for yourself and/or it's a really humid day, I'm going to go out on a limb and say you don't have to do this step. I made the caramel sugar glass the night before, and while it was hard, the humidity in our place still made it very sticky to work with the next morning. I did use our mini food processor that came with our new stick blender which pulverized it all quite nicely, but it also meant that the sugar inside would get very sticky and that once you took out the blades, there was no putting them back in to loosen the dust again. That said if you're looking for an impressive-yet-simple dessert to wow some friends at during a dinner party, sprinkling the dust on does make for some fun showmanship.
It's fitting, in a way, to make a recipe from a film that celebrates the diversity of American food, particularly from cities with vibrant immigrant populations, to mark this team's achievement. We're all better for having this incredible squad represent us on women's soccer biggest stage, and we're also better for having so much fantastic food all throughout our country. There's a lot to be frustrated with here in the US right now, but these are some heartening spots.
Berries and Cream with Caramel Dust
Lightly adapted from this recipe by Roy Choi
Serves 2
For the berries:
1 cup blueberries, rinsed

1 cup raspberries, rinsed

1 cup strawberries, rinsed, hulled, halved and sliced (the original calls for blackberries–use whatever floats your particular boat)

2 tablespoons granulated sugar

2 tablespoons mint, chiffonade

2 tablespoons Grand Marnier (note: ask your adult beverage provider if they have a mini of GM if it's something you don't normally use. One mini has more than enough for this recipe)
For the caramel dust:
1 cup granulated sugar

¼ cup of water
For the cream:
1 cup heavy whipping cream

¼ cup confectioner's sugar (If you only have granulated sugar, put some in a food processor and blast until fine and measure accordingly)
Make the caramel dust: lay out a sheet of parchment paper or a silicone mat. Combine the granulated sugar and water into a small saucepan and bring to boil in order to dissolve the sugar. Bring it down to medium heat and let caramelize, not stirring the pan, but also not letting it burn. When it reaches a dark golden color, remove the pan from the heat and pour the parchment paper/silicone mat. Let harden for at least two hours, and then break up the pieces and put them into a food processor in order to create the dust. Keep covered until ready for serving, whirring the food processor from time to time to break up any clumps.
To make the berries: combine them all in a large mixing bowl with the two tablespoons of granulated sugar and let sit for at least one hour to macerate. Then add the mint and Grand Marnier and stir to combine again. Divide the berries between two bowls when ready to serve.
To make the cream: whip together the cream and confectioner's sugar until soft peaks are formed. Save this step for right before serving.
To serve: in each bowl, gently fold some whipped cream over the berries, and then place the caramel dust into a fine sieve and sprinkle each dish with it. Serve immediately.